Continuous Homogenizing Furnace
It is designed to automatically control the Gas Temperature and BILLET temperature in Furnace while mechanically walking the materials by short distances with getting heat treatment.
It's program was developed for operator to operate from 5 INCH to 10 INCH, while the heat efficiency of the Furnace is maximized through internal pressure controlling device and Damper adjustment.
Also, the PLC that operates equipment is changed to the temperature controlling system built-in PLC.
These improvements have made possible for fast program process, perfect function and trouble diagnosis to be handled in short period of time.
Also, it has easy and simple data input for inner Furnace temperature control.
The Drive panel displays all malfunction diagnoses in English and it has 99% accurate self-diagnosis and malfunction handling system.
Also, it monitors the malfunction and troubles of all the Limit & Approach switch and the Touch Screen is designed to look at the equipment operation status at a glance.
This system can adjust time for BILLET heat treatment and some are stored within the Homogenizing Furnace.
You can look at the current location and progresses at a glance.
The system is designed to maintain the equipment through the Internet.
You can also add an ability to send a malfunction or trouble message to supervisor's cellular phone by user's request and by the web program connection, the data can be managed like the web bulletin board.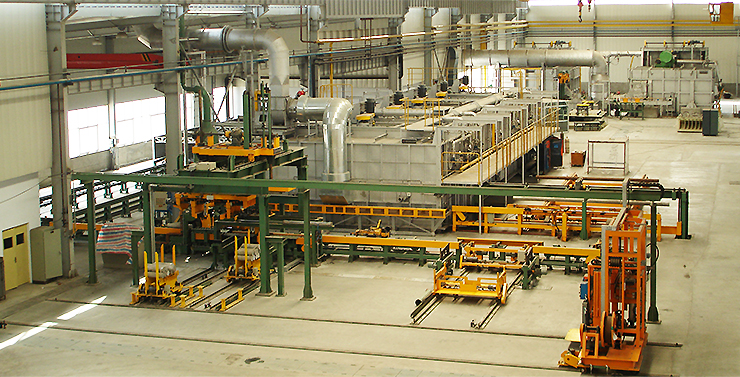 Features:
Heat source :
Gas
Direct heat air circulation method
Workable Temperature :
NOR 580°C
Furnace main body construction :
Ceramic Fiber
Higher thermal efficiency
Short heating time
WALKING BEAM constructed in the furnace